2021 Industrialist of the Year Award Dinner
November 9, 2021 | 5:00 - 8:00pm EST
Duquesne Club | 325 Sixth Ave, Pittsburgh, PA 15222 | www.duquesne.org
SIOR Western PA Chapter is honored to present the 2021 Industrialist of the Year Award to Jack G. Buncher (Posthumous). Join us as we recognize his distinguished contributions to the industry and the community.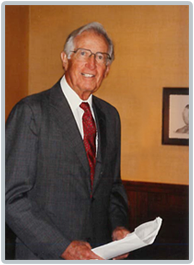 Jack G. Buncher (Posthumous)
Without execution, a vision is a static plan. The Buncher Company's founder, Jack G. Buncher, had a vision of giving life and revitalization to what had been deemed by others to be unusable. This vision took flight, evolving into the multi-faceted company it is today.
Jack Buncher's legacy lives on long after his passing in 2001, at the age of 90. The Buncher Company continues to thrive in the capable hands of a strong, trusted management team. Always evolving while honoring our past.
Interested in Sponsoring?
Click here to view our sponsorship opportunities.
Registration Closed
Registration for this event closed on November 9, 2021 at 12:30pm. If you have any questions please contact our offices at: information@siorpgh.com | (412) 228-5839.